Tusen takk for alle de flotte bidragene vi mottok til vår siste utfordring hvor oppgaven var å bruke sommerfugler på prosjektet ditt.
Vintageteamet har valgt ut sine favoritter og stemt fram en topp 3 liste.
Whether you like
crafting in classic, vintage, rustic, shabby chic or modern style you'll be spoiled for choice! The Ribbon Girl is owned and operated by a mother and daughter team, Mary and Andrea. They stock an impressive selection of gorgeous ribbons and trims from silk to hessian, and 100 different designs of vintage style, cotton, guipure and flat lace (all ribbon and lace is sold by the metre in continuous lengths whenever possible) hundreds of charms and pendants, all available as single units.
Their Flower Shop is full of pretty flowers and beaded berries and they stock Wild Orchid Crafts, Kort & Godt and many others, in mulberry, cotton paper, satin, organza; they have gorgeous diamante and pearl embellishments; a vast array of buttons, twine, hemp, vintage style brooches, special occasion, bridal and seasonal embellishments. their Christmas Shop is open all year round and they also offer craft essentials such as top-stitch thread, sticky tape, Glossy Accents, Liquid Pearls and Stickles, brooch backs, hair slides, hat pins etc
Den heldige vinneren (den som blir stemt fram som topp 1 av Vintageteamet) vinner dette gavekort fra Ribbon Girl.
1. plass
Janneke
2. plass
Sandy
3. plass
Sandys 2. bidrag
og
Susanne
Gratulerer så mye alle sammen!
Janneke,
vær snill å sende adressen din til
vintageudfordring@hotmail.com
slik at vi kan sende deg premien.
Du kan ta med deg denne banneren og vise den stolt fram i sidebaren i bloggen din.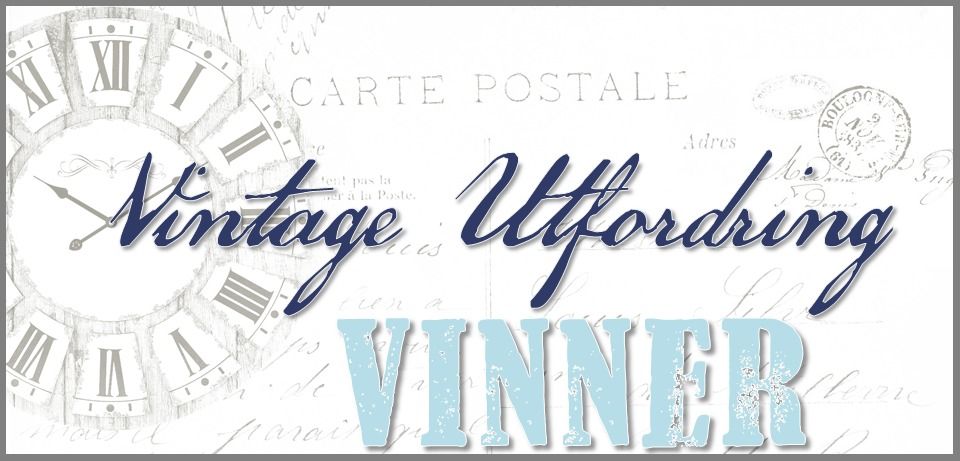 Sandy og Susanne, her er deres topp 3 banner som dere kan pryde bloggene deres med.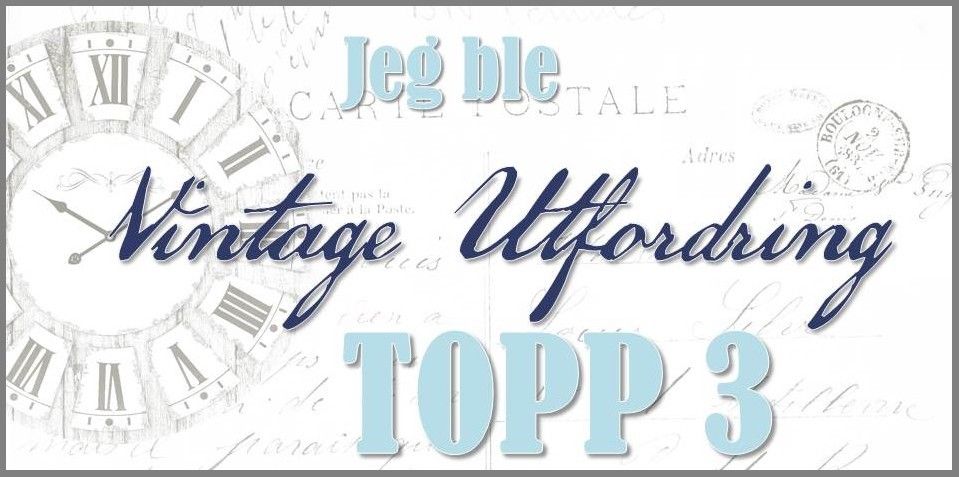 Da gjenstår det bare å si TUSEN TAKK FOR OSS!
Takk til alle dere trofaste bidragsytere og dere gavemilde sponsorer som har gjort det mulig å drive Vitnageutfordringen i så mange år!
Og tusen takk til både nåværende og forhenværende designere som har laget så mye flott inspirasjon til utfordringene våre!